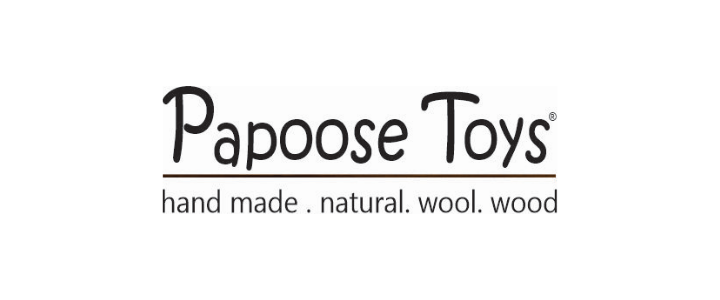 Originated from: Australia
Papoose toys and accessories are handmade in Nepal and Indonesia by local female artisans who use natural wool, non-toxic dyes and traditional felting techniques to make intricate child-friendly figures, games, animals and puppets.
Papoose products are designed in Victoria by the creative Renske at Colours of Australia, who has been making and designing playful, educational, eco-friendly and ethical products for the past 25 years.
Colours of Australia is committed to supporting Nepal's traditional craft-skills and providing ethical and fair employment to women.
Check out how to care for your Papoose Toys here.
Check out the full Papoose Toys catalogue here. If you're keen on any of the items do reach out and we will quote a price for you.
NOTE: Wooden Toys from Papoose are made from natural wood. Do expect variations in terms of colour, grain, and markings. Some products also show cracks down their trunks/stumps.
For the gems, some tiny specks of imperfections may be visible. Papoose Toys sincerely do not believe this impacts in any way on the play value and it only happens occasionally. Of course, during quality control the bad ones get filtered out. If you happen to get a broken gem please let us know immediately as this is not OK and will be replaced.

For the Lucite products:
It is recommended NOT to let kids play on concrete with these items. They are all compliant with EN71 for age 3+ (fully tested) but the pieces can chip when dropped on a very hard surface from a table top height. Keep an eye on your kids and help them understand. The Lucites are gorgeous and add a lot of play value, they are also excellent for teaching about colour and light reflections.
They can be cleaned by wiping with a damp cloth.
We have checked with Papoose Toys and they have personally guaranteed that these are not defects, but are indications that each piece is unique and serve as proof of its natural origin and handiwork of real people.
If you feel you can not deal with these little specks and marks, please refrain from buying this product. Please take note that by purchasing, you are accepting that the toys have their unique characteristics such as these.
With Papoose Toys, your worldly play and buildings will be extended with beautiful heirloom gems and wood.